The Grand Finals of the PUBG Mobile Global Championship (PMGC) 2022 took place over the weekend. As soon as the match began, S2G Esports of Turkey claimed the lead in the points standings as both the Turkish and Brazilian teams faced off against the established favorites.
From January 6 to January 8 in Jakarta, Indonesia, the PMGC 2022 Grand Finals were held at the Jakarta International Expo. Since the start of the competition, there had never been a live audience at a PMGC. The teams competed for a piece of the $1.5 million prize fund for the PMGC 2022 Grand Finals in addition to the title of global champions.
Turkish and Brazilian Teams Dominated Standings in PMGC 2022
There were many unexpected outcomes on the opening day of the PMGC 2022 Grand Finals. It would be an understatement to claim that no one could have foreseen the scoreboard's current appearance. The top three positions were held by the first, second, and third Brazilian teams. They advance to the PMGC 2022 Grand Finals, respectively. The top of the standings table was held by Alpha7, with three top-three finishes and one chicken meal. In second and third place, respectively, were iNCO Gaming and Influence Chemin.
As the day concluded divided between them and Brazilians. S2G Esports of Turkey and DRS Gaming of Nepal made their bids for the championship heading into Day 2. As Day 3 progressed, there was a constant back and forth between both teams as Brazil started to come under attack and was hot dropped, whilst S2G and DRS continued to play unchallenged.
There were just 12 points remaining in the final match between Alpha7, S2G, and DRS. There's still one round to play. The Turkish squad only needed one match with 15 kills to take the lead in the standings.
PMGC 2022 Overall Standings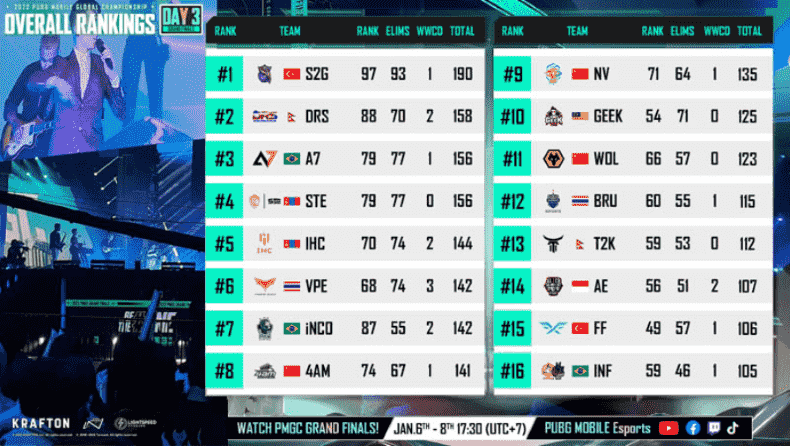 The rest of the points table is shocking in addition to the top spots. The PMGC has historically been dominated by Chinese teams. Nova Esports, the two-time and reigning world champions, had a poor performance and could only manage the ninth place. The team made dubious rotations and lost in gunfights, giving the impression that they were a mere shadow of their former dominance.
Even the two other teams considered to be favorites to win the competition, GodLike Stalwart, and Vampire Esports, failed to make an impression through Day 3. On Day 1, Stalwart came in at 13th place, Vampire came in at a pitiful 15th place. But the point differential was nearly insurmountable.
Another Chinese team, Four Angry Men, remained relevant and reliable throughout the competition, but they never delivered a game-changing performance that propelled them to the top. You can watch all the action and replays on the PUBG Mobile YouTube channel.