Tens of thousands of Pokemon Go users have signed a petition on change.org to "Save Remote Raiding" to protest the upcoming Remote Raid changes. Pokemon Go players understood March 30, 2023, was a possibility, but they hoped the rumors would never pass. Niantic stated that they would be making changes to Remote Raiding that would make it harder to access.
The cost of Remote Raid Passes has nearly doubled. And the amount of Remote Raids is now only five per day. Niantic acknowledged that it anticipated a strong community reaction to this statement following an update this unpopular. Additionally, players are uniting for a widespread boycott of Pokemon Go for the second time in the past three years. Participants in the boycott are anticipated to spend time interacting with in-game raids for a week starting on April 6. When the changes go live, other players intend to cut the cord and delete the app.
A petition to "Save Remote Raiding" has hundreds of signatures
While lengthy forum posts might not pique Niantic's interest, one player petitioned to demonstrate how these changes will hurt the community. And right now, it's on the verge of ranking among the most popular Change.org campaigns. The petition was started soon after Niantic's announcement by user Ali Vongsathian. Numerous petitions have been launched in recent years, but Ali's immediately garnered support. Currently, the "Save Remote Raiding in Pokémon GO! Just under 20,000 people have signed the motion.
"Niantic did not consider what this price increase and limitation means for Pokemon trainers who do not have the privilege of being able to leave their house to play a game," Ali stated in the petition's details. This includes people who are disabled or have special needs, caregivers, people who have compromised immune systems, and many others.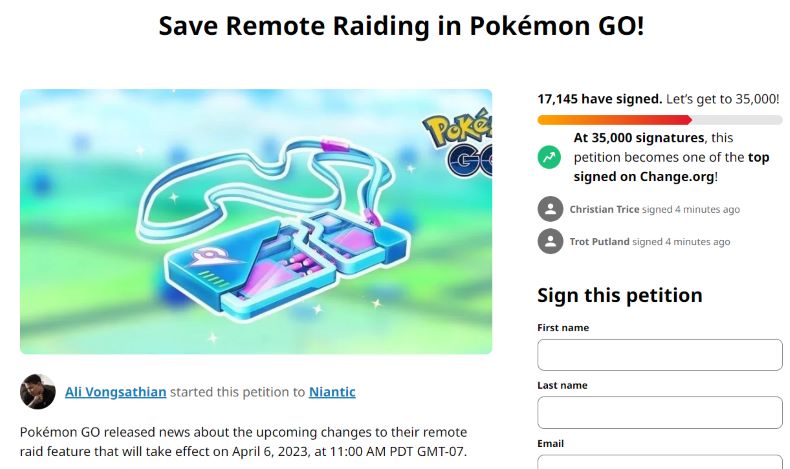 Several players added their signatures and remarks in addition to Ali's explanation. Andi S wrote, "Remote raids enabled me to routinely play with friends and be involved in the PoGo community despite being disabled and immunocompromised. Removing these unfairly penalizes players who cannot physically assemble in groups or journey far from home.
Others harped on Niantic and how their vision for the game is destroying it for players in remote areas and those with disabilities. According to some, numerous nerfs will only motivate cheaters to keep spoofing.