Marvel Snap March 2023 Season: X-Men Days of Future Past Update – Everything You Need to Know
With the official March 2023 Marvel Snap Season, we have a complete summary of everything in the X-Men: Days of Future Past update. You need to know everything about the new Nimrod card and the Season Pass. New Marvel Snap content, including new cards, locations, variants, and cosmetic items, debuts at the beginning of each month.
As they move on to the X-Men realm, Snap players' time in the Quantum Realm is drawing to a close. Players in Days of Future Past will fight wicked Sentinels and attempt to alter the timeline in the post-apocalyptic planet. Let's travel back in time to see what the Days of Future past update has in store.
Dates for the Marvel Snap March 2023 Season
Marvel Snap has yet to announce the precise time and date for the start of the March 2023 Season. We'll update this section as new information becomes available. However, the new season and content are likely to start when the current February 2023 pass expires on March 5, 2023.
Price for the Marvel Snap Days of Future Past Season Pass
Like in previous seasons, Marvel Snap users can get rewards through the Season Pass's free rewards track. Nevertheless, one of the two premium tracks will unlock even more stuff if you pay for it. Also, the premium reward track can first be unlocked by purchasing the $9.99 Premium Season Pass. The more comprehensive alternative in the $14.99 Premium+ bundle follows, skipping the first ten stages right away.
The latest Marvel Snap Season features an X-Men Days of Future Past theme.
According to the March 2023 Season trailer posted on March 2, the X-Men Days of Future Past will significantly influence the upcoming season of Marvel Snap. In this story, one of the X-Men travels back in time to prevent the Sentinels from eradicating mutants.
Because of this, a lot of the new locales, cards, and card variations center on the idea of an alternate future and the central characters involved in the Days of Future Past battle.
March 2023 will bring new Days of Future Past cards. Marvel Animated Series
According to the most recent video, Marvel Snap will receive four new cards in March 2023. The first card is Nimrod, a 5-cost, 5-power card that, after being destroyed, adds a duplicate to the other two locations. Nimrod looks like an obvious choice for any Destroyer decks, but there is a worry that if you take up too much room in the other places, you might not be able to utilize Nimrod's powerfully.
The second brand-new card, Kitty Pryde, is a 1-cost, 0-power card that gains two power when you put her back in your hand. She appears to be constructed to work well with cards like Falcon and Beast, and she would fit in nicely with an On Reveal deck where they can get several uses out of this ability to strengthen her.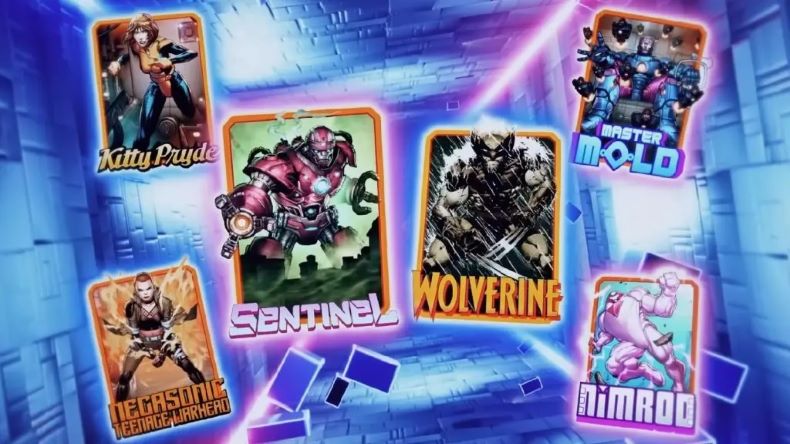 The fourth new card to join Marvel Snap is Master Mold, a 2-cost, 2-power card that, when used, adds 2 Sentinels to your opponent's hand. When it becomes more difficult for players to obtain as many of their own cards as they desire if they are playing a Discard deck, this ability will make him an excellent complement to a Disruption deck.
Last but not least, Negasonic Teenage Warhead is a 3-cost, 4-power card that will destroy both itself and any card played at its spot after it. The adversary would effectively have to spend a card there, which may make it an excellent option to control a location. Nevertheless, it could also work well in a Destroyer deck.