There will soon be a brand-new action-strategy game set in the well-known universe of Minecraft. Here is all the information we have on Minecraft Legends.
Many people are curious to see if Minecraft Legends will be featured in the 2023 Xbox developer direct event. If so, they hope to see more gameplay footage or fresh details about a possible release date. As we wait impatiently for more information, we review everything we already know about the game. Although more information will be added when it is made public, check back soon for additional information.
Mojang has released a more strategic experience in response to the popularity of Minecraft and Minecraft Dungeons. In the action-packed game Minecraft Legends, you can ride a regal steed and defend the once-peaceful land from the invasion of bothersome Piglins.
Here is all the information on the new game, including the platforms it will be playable on and some exciting trailers.
The Release Date of Minecraft Legends
The official release date for Minecraft Legends is April 18, 2023. The release timeline for Minecraft Legends was stated to be Spring 2023 during Minecraft Live 2022. Since then, there have been few new announcements regarding the game's release date. But we discovered for sure that the game is set to release in April during an early Xbox event in 2023.
What platforms are compatible with Minecraft Legends?
We know Minecraft Legends will be accessible on Xbox, PC, Switch, and PlayStation, thanks to the trailers. It will be accessible via Xbox Game Pass as well.
What is the focus of Minecraft Legends?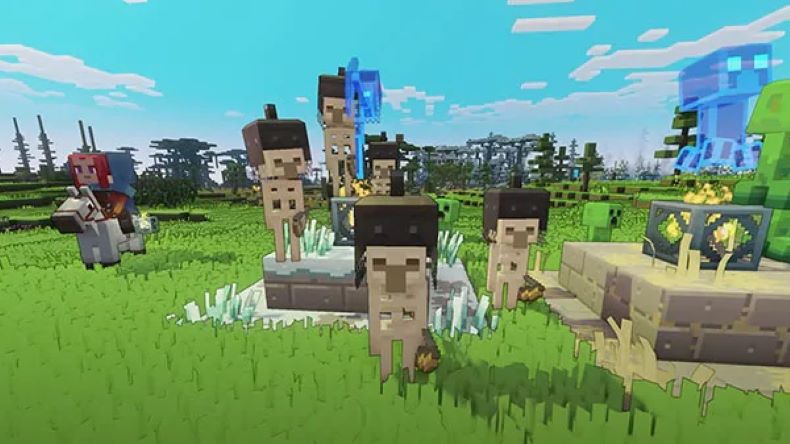 The game will likely be an action strategy experience based on the Gamescom 2022 interviews. The cinematic and the general description of Minecraft Legends. Piglins have taken control of the formerly tranquil world of Minecraft, and it's up to you to prevent them from obliterating the one you live in. It involves collaborating with numerous other friends, using perks, and taking out a variety of foes, including dangerous Bruisers and cunning Pigmadillos.
You will use the mechanics while riding your horse to kill the enemies and keep yourself alive while interacting with identifiable critters from the original Minecraft.
Announcement and gameplay trailers for Minecraft Legends
The first glimpse of gameplay and basic design was in a teaser for an announcement. It gives you an overall overview of the new antagonists and the fight you'll have to engage in. You can see the announcement trailer here:
Another official trailer offering a glimpse of the gameplay followed. It described the new action-strategy gameplay and emphasized the vile foes you'd face.
The Creative Director and Narrative Director of Minecraft Legends walked you through the demo at Minecraft Live 2022 shortly after this video was released, giving fans a more in-depth look at the game.
Fans are certainly intrigued by the numerous gameplay trailers, but PvP is possibly even more intriguing. Everything you need to learn about PvP in Minecraft Legends is shown in the video below. Additionally, players got their greatest look yet at the game in the most recent teaser, which debuted on January 25, 2023.
For Minecraft players to explore, developers Mojang Studios and Blackbird Interactive have built an entirely new and vibrant world with gameplay, a compelling plot, and entertaining new modes and aesthetics.