Apex Legends' 2023 Anniversary Collection Event: New Skins and Free Rewards!
The fourth anniversary of the Collection Event has been announced for Apex Legends. Much like in previous years, we can anticipate an update that honors the occasion with new cosmetics and the opportunity to acquire an heirloom.
It wasn't until 2019 that Apex Legends was finally made available to the public. Ever since then, Respawn has honored the occasion every year that the game has been out by holding an Anniversary Collection Event. As was to be expected, Respawn is carrying on the tradition of celebrating Apex's fourth birthday with new cosmetics, collectibles, and original content for the game.
This time around, the update will bring in cosmetics designed by the community, a free batch of goodies, and the opportunity to obtain Heirloom Shards rather than a particular mythic item.
When does the Anniversary Collection Event for Apex Legends take place?
The fourth Anniversary Collection Event for Apex Legends will commence on February 14, 2023, concurrently with the release of the Season 16 patch. Because this will provide the community with a substantial quantity of new content and skins to acquire, be sure to jot down the date in your calendar.
Heirloom Shards are available during the Anniversary Collection Event in Apex Legends
The fourth Anniversary update, in contrast to a regular Collection Event, will not include the addition of a new Heirloom to the roster of available items. In its place, players will have the opportunity to earn a total of 150 Heirloom Shards independently.
This provides them with additional flexibility and makes it possible for them to unlock any Heirloom of their choosing. Please complete the most of this opportunity while it still exists because a deal such as this has only been made available once before, and that was in 2021, to celebrate the second anniversary of Apex Legends. To acquire the 150 Heirloom Shards, you must complete the Collection Event by acquiring all 24 available cosmetics for sale in the event's themed packs.
Free prizes are available during the Apex Legends Anniversary Collection Event
This Collection Event, like all previous ones, will contain a free reward track, but this time around, the community will be responsible for designing the cosmetics.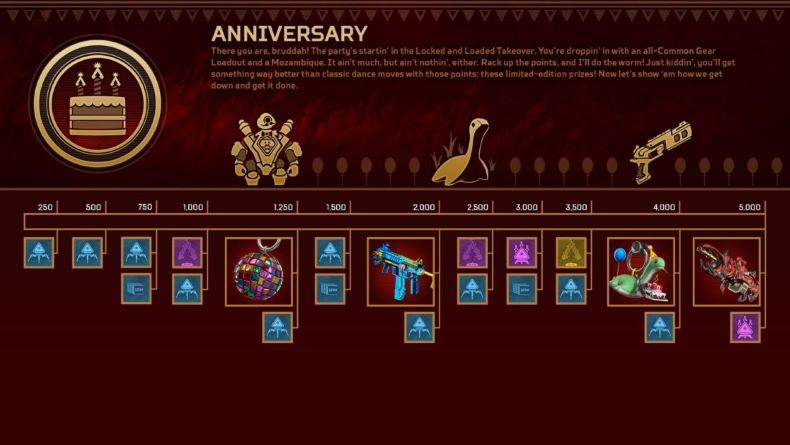 This is inspiring news since it indicates that each skin has been designed from scratch. Various artists are not affiliated with Respawn. Not only that, but because they are entirely free, every player has the opportunity to get them. That wraps up everything you need to know about the Anniversary Collection Event that will take place on February 14, 2023, so congratulations, you've made it this far!