For a better gaming experience, a wide range of laptops are available by Alienware. When you need a 17-inch laptop, it can be tough to choose from highly-competitive options. Anyone who is investing money in such a device expects to get a fantastic gaming experience.
Alienware is a reliable and reputed brand for manufacturing better gaming laptops. To play high-quality graphic games, you must get a good Alienware 17in laptop. 17-inch screen size is enough to get a better gaming experience.
You should also consider the buying guide to understand your requirements and decide the best option. Generally, gaming laptops are expensive, and you cannot buy any random one without knowing its features.
Best Alienware 17in Laptops 2023
Model M17 R5
It is a fantastic laptop model with a black matte finish and an RGB logo at the back. No compromise is made while designing this device. An element that gains the attention of buyers is the hexagon ventilation along with the iron bar, i.e., wrapped all around its ports.
The quality of the keyboard is too good. You can press multiple keys continuously while playing any game. The mechanical keyboard attached to this model is durable and works well for gamers. Its machine is AMD-based, but due to its thermal feature, it remains cool even if you operate the device for many hours.
It helps maintain the temperature and perform well under pressure. It is a great gaming laptop at an affordable price, providing an excellent gaming experience. The screen size is almost 17 inches with 16 GB RAM and Ryzen 7 CPU. The maximum storage of the device is 512 GB. You can consider buying it for playing high-end games.
Model M17 R4
This Alienware model consists of an Intel Core i7 processor and Nvidia RTX GeForce 3060 graphic card for better performance. You can play games with a better frame rate and excellent graphics. There will be no reduced motion, blur graphics, or tears issues. You can play any game smoothly without any interruption.
The hardware used in this device is of good quality and allows you to get involved in long gaming sessions. Its high-end cooling system keeps the hardware at a normal temperature. Due to proper heat dissipation and airflow, the system avoids thermal throttling. It keeps your laptop functionally stable.
Even after long gaming sessions, your laptop will not heat up and provide maximum performance. The display is 17.3 inches, supporting 256 GB storage and 16GB RAM. You can customize the appearance of your laptop by installing RGB lighting.
You can choose lights that match well with your gaming setup. It is an excellent choice for every gamer for better performance and customizable features. It is a perfect Alienware 17in laptop that you must buy for next-level gaming.
Model Area-51m R2
It is another 17-inch gaming laptop by Alienware with a massive storage space of 2 TB and 32 GB RAM. Developing such a high-end laptop is to replace desktops with better functionalities and high performance. The CPU, i.e., Core i9 installed in this device, is relatively fast for playing different games.
Finding a 200-Watt RTX NVIDIA GeForce 2080 graphic card in any laptop is hard. The shocking thing is that you can upgrade the CPU and GPU within this device. No company provides such a feature to buyers. Even if it operates massive components, the machinery will never heat up.
The high-speed processor will remain calm even if you play games for many hours. Without throttling, you can operate the device for a whole day, and it will run well over 100 watts. When it comes to performance, nothing can beat this device.
You can do all types of high-demanding tasks without any interruptions. Everyone knows it is an adequate desktop replacement, but you cannot consider it a portable PC due to its size. You can keep it at home and use it whenever you desire. You must connect the charger to avoid running out of battery while playing any game.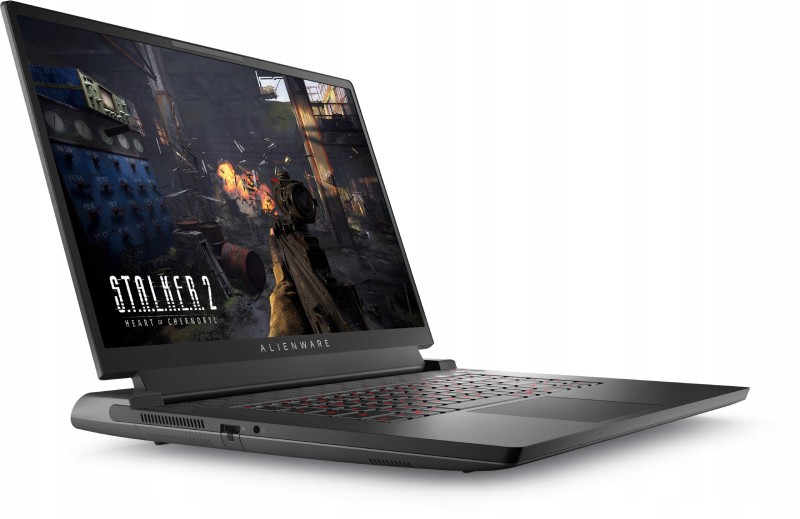 Model X17 R2
If you are looking for a top-quality gaming laptop, consider this model. It comes with a storage space of 1 TB and RAM of 16 GB. A high-quality graphic card, i.e., RTX 3070 Ti, is installed to play high-end games smoothly. The 17-inch screen size is big enough to get a fantastic gaming experience.
Its slim design and light weight attract many buyers. Though it has a thin frame, there is no compromise in performance. Customers can customize several configurations to improve the base model. The installed CPU and GPU are available in the base model, and you can upgrade your system per your needs.
You can install a Core i9 processor and RTX 3080 Ti GPU in the upgraded version. The air vents on the device's sides are large enough to dissipate heat and manage airflow. In this device, you will get a quad fan that helps cool the system by removing heat.
It improves the laptop's performance and lets you do all the functions smoothly. If you need overclocking profiles enabled, you can also do so from the available settings. It is a fantastic model for beginners who want to play different games without compromising performance.
Model X17 R2 Upgraded Version
If you want an upgraded model X17 R2, you can get everything pre-installed as a new model. In this 17-inch laptop, the CPU will be upgraded to Core i9 and the GPU to RTX 3080 Ti. The storage space is also increased to 2 TB with the same RAM of 16 GB.
For such features, you need to spend more money, and you will be able to play advanced games with high-quality graphics and features. You will get a device that works better than the base model at a premium price. It is easy for the system to handle multiple tasks simultaneously.
You can play games, design graphics, create high-quality content, etc. But you must know that the upgraded version lacks better battery backup. You can use this laptop only when you plug into any power source. But you will have enough memory to store different games and play them repeatedly.
If you face any issues while managing multiple tasks, you can change the RAM to 32 GB and keep everything comfortable. Better storage also helps load and access high-end games and other big files. It is a perfect device for experienced gamers who expect better performance at a high price.
Buying Guide
Before buying an Alienware 17in laptop, you must determine all the following factors.
Overheating
Gaming laptops need high power to process high-end games and graphics. Generally, these devices are manufactured with cutting-edge technology for better gaming performance. But it makes the system as it dissipates heat. Generally, overheating is a common problem in many laptops, but you will experience such an issue in any Alienware device.
In every laptop of the Alienware range, a high-tech cooling system is installed that helps dissipate heat by using big metal fans and pipes. The size and location of air vents are perfect for preventing overheating. You can play any favorite game of your choice without risking the performance of your device.  
Gaming Performance
In the latest models of Alienware laptops, high-quality hardware is installed, like GPU, CPU, etc., for better gaming performance. If you are a new gamer, you can consider the one with a Core i7 processor and upgrade it as per your requirements.
The models available with Core i9 processors are pretty fast, so that you can play all games smoothly. If you want to try new games with high-quality graphics and save them, you need to upgrade your existing system to avoid performance issues. If you compare Alienware laptops with others, you cannot expect the same capability given in Asus or HP.
Customer Support
Alienware is Dell's sub-brand, and you can rely on its quality. If you experience any trouble, you can contact the customer support team for help. Dell has a decent customer support team that helps its users across the globe.
You need to wait a bit for complaints or solutions, but the team will be available as soon as possible. All your issues will be resolved once you get in touch with them. You can expect better customer service from this brand for any laptop you buy.
Lifespan
The lifespan of your laptop depends on your use and maintenance. Undoubtedly, the machinery is durable and reliable. The company provides a warranty on the product for several years, and it will run perfectly if you use it properly.
But you can expect a lifespan of five to six years when you do not need to spend any money on repairs or maintenance. But you need to keep your system clean and well-maintained. In many cases, the hinge component is the initial thing that can break, and it can risk other components. Therefore, you need to be careful while handling your device.
Battery Backup
Generally, the battery life of gaming laptops is not up to the mark. Similarly, you cannot expect a better battery backup for Alienware laptops. All the high-end components are installed in the device, which runs at high power.
It consumes too much battery power, so the backup is low. If you want to play your favorite games without interruption, connect the charger to the power source throughout your gaming session. You can expect a battery backup of five to six hours in the base model but not in the upgraded versions.
Design and Quality
The sub-brand of Dell, i.e., Alienware, introduces these models as flagship. Therefore, the materials used for building hardware are of good quality. The components are not made with cheap plastic and will not survive for years.
The entire body is made of aluminum, along with a solid chassis. You can rely on the building quality of the devices. The laptops are sleek and easy to handle. But due to the 17-inch screen size, it is better to avoid using it as a portable device.
The Bottom Line
To get a next-level gaming experience, you need to invest in a good-quality laptop. Alienware, a sub-brand of Dell, has launched unique models in 17-inch screen sizes. The laptop list mentioned is suitable for gamers who can smoothly play any game on these devices.
You must consider the buying guide before considering these laptops and choosing the appropriate one. Sometimes, it can be challenging to make a choice. You can simplify things by knowing all the features available in every laptop model by Alienware.
You must compare those features with your requirements and decide on the perfect device that fulfills all your requirements. These laptops are suitable for every beginner and experienced gamer. If you get the base model, you can upgrade or customize its features depending on your requirements.
Always come back to GamingGadgets for the latest video gaming news and reviews.