Overwatch 2 is right up there. Despite initial bugs, Blizzard does deliver the goods.
With 36 heroes in the game, choosing the right character to learn and master is still all about it.
This guide will examine some of the most popular returning characters and the newest characters in Overwatch 2.
Overwatch 2: 4 New Characters
Let's start off with the newest characters introduced in the sequel, Overwatch 2. So far, 4 new heroes have been introduced in Overwatch 2, as listed below.
Sojourn (Role: Damage)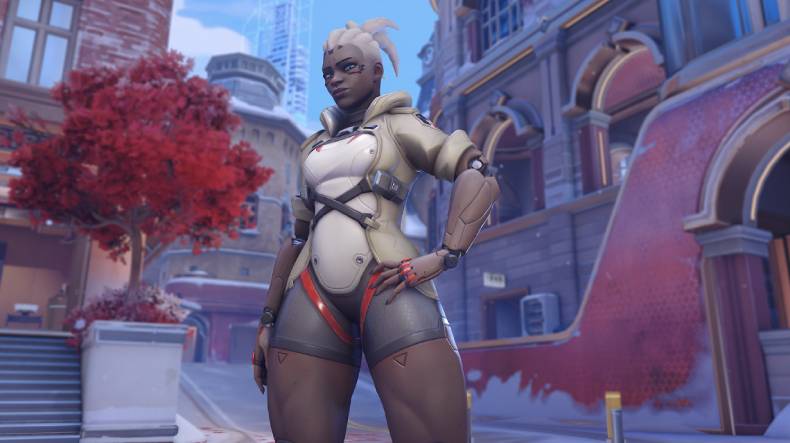 Weapons
Railgun – The railgun shoots projectiles that recharge energy for her alt fire.
Railgun Alt Fire – High impact shot that consumes stored energy.
Abilities
Power Slide – Lets Sojourn slide on the ground and jump high when the slide is canceled.
Disruptor Shot – Launch an energy shot that deals damage to enemies within it.
Ultimate
Overclock – Unlocks auto-recharge of the Railgun energy, letting you shoot armor-piercing ammo rounds.
Tips & Tricks
Here are some tips and tricks for you to utilize Sojourn effectively:
Sojourn generally has a high skill ceiling and may not be suitable for players who are new to the competitive FPS genre. You need precise aim mechanics to get the most out of her Railgun.
Make sure you alternate between Railgun's primary and secondary fire, as the energy generated by the primary fire recharges the secondary fire.
You can use Disruptor Shot both offensively by inflicting damage to the enemy team and defensively by zoning enemies.
Junker Queen (Role: Tank)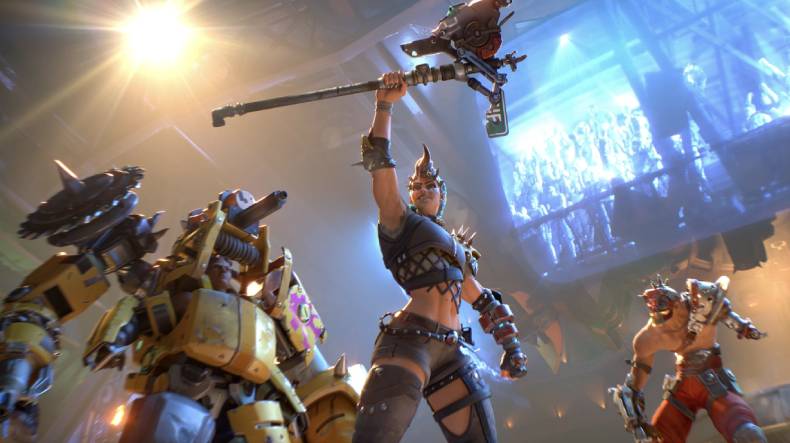 The powerful leader from Junkertown, Australia, Junker Queen is known for her survival skills. Always heading first into battle, her fierce and mighty nature is a force to be reckoned with.
Weapons
Scattergun – Pump action shotgun.
Jagged Blade – Throws a blade in an arc. Re-activate ability to recall. If it sticks to an enemy, the enemy will be pulled back when the blade returns. Damages enemies in both directions.
Abilities
Commanding Shout – Self HP buffed by 200 points while allies get 50 HP boost. A 30% increase in speed.
Carnage – Wound damage dealt to the enemies over time with the axe.
Ultimate
Rampage – An aggressive charge that deals wound damage to enemies over time and nullifying their healing effects.
Passive
Adrenaline Rush – Self-healing is unlocked when causing wound damage to enemies.
Tips & Tricks
Some tips and tricks for Junker Queen are as follows:
As a strong tank, you want to seek out initial duels by closing in the distance from the enemies and landing Scattergun shots at a short range.
Make sure you time your enemy engagement properly, giving you a chance to safely trigger her abilities, as she is the most vulnerable during the abilities' cast time.
Kiriko (Role: Support)
Kiriko, the Japanese vigilante, is the newest Support character in Overwatch 2. Full of youthfulness, intelligence, and displaying a strong moral compass, her attributes make her a natural leader.
Weapons
Scattergun – Pump action shotgun.
Jagged Blade – Throws a blade in an arc. Re-activate ability to recall. If it sticks to an enemy, the enemy will be pulled back when the blade returns. Damages enemies in both directions.
Abilities
Swift Step – Teleport directly to an ally as long as they are in your range.
Protection Suzu – Grants temporary invincibility to allies in range and removes all debuffs.
Ultimate
Kitsune Rush – Summon a fox spirit that charges ahead, and following it increases your allies' movement, attack speed and reduces cooldowns.
Passive
Wall Climb – Hold the jump button to climb walls vertically.
Tips & Tricks
Some tips for using Kiriko are described below:
You can use a combination of her abilities, Swift Step and Protection Suzu, for maximum effectiveness.
Timing the Protection Suzu ability perfectly can save your allies from any damage-dealing abilities, even ultimates.
Kiriko's healing is best utilized with all 5 paper tags available, so save them up if you can.
Ramattra (Role: Tank)
Rammatra is the leader of the Null Sector and the latest addition to Overwatch as a Tank character in Overwatch 2. This former monk from Nepal possesses two forms: Omnic, which lets him play as a defensive support, and Nemesis, which makes him an aggressive threat.
Omnic Form
Void Accelerator – Launch a stream of damaging projectiles with no damage fall off.
Void Barrier – Create a barrier anywhere with 1000HP that lasts for a short duration.
Nemesis Form
Nemesis Form – Transform into the bulkier Nemesis form where you gain new abilities and additional Armor for defense.
Pummel – Creates plasma blasts with a 12m range while punching with your fists.
Block – Raise your arms into a cross guard reducing your movement speed and absorbing 75% of damage taken.
Ability (Both Forms)
Ravenous Vortex – Fires a projectile that can bounce and triggers a vortex when it lands on horizontal ground. The vortex slows, grounds and damages all enemies within it.
Ultimate
Annihilation – Enter Nemesis Form and create an energy field around you that tethers itself and deals damage to all enemies in your range. While enemies are tethered, the ability timer will not tick down.
Tips & Tricks
Here are a few tips for using Ramattra effectively:
A good Ramattra user must know when to switch between his two forms. Omnic Form for long-range combat and Nemesis Form for close-quarters brawls.
You can chain your Nemesis form with other offensive attacks of your teammates for large bursts of damage.
Use Annihilation to secure important locations and clear out objectives.
Overwatch 2: Fan-Favorite Characters
Overwatch 2 also saw the return of all the characters from the original. Here is a list of some top-rated and fan-favorite Overwatch characters returning in Overwatch 2.
Reaper (Role: Damage)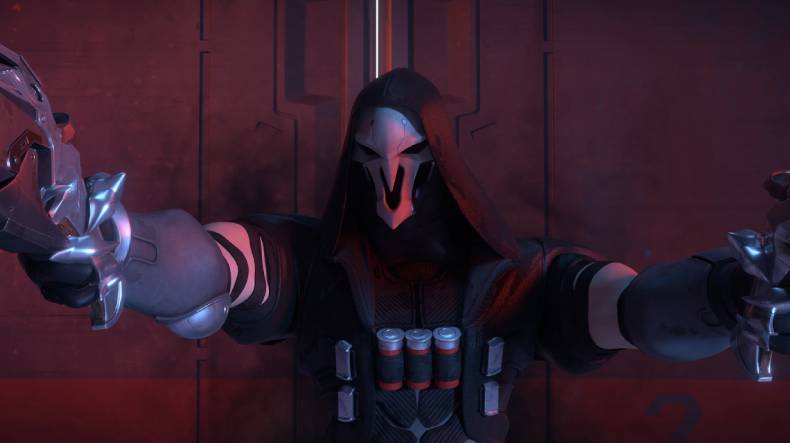 An American military veteran with supernatural abilities, Reaper, is described as an angry ghost. Living in a state of constant agony, he ensures his enemies taste the same pain and fear.
Weapon
Hellfire Shotguns – Reaper fires powerful pellets with his twin shotguns.
Abilities
Wraith Form – Enter wraith form where Reaper takes no damage, has increased move speed and can pass through enemies, but he cannot fire his weapons or use other abilities.
Shadow Step – Reaper uses the shadows to warp to a destination within your sights.
Ultimate
Death Blossom – Release both your shotguns in a 360-degree radius around you, dealing massive damage to anyone in your range for the duration of the ability.
Passive
The Reaping – Heal yourself whenever you deal damage to enemies.
Tips & Tricks
Some of the tips regarding Reaper are discussed below:
He is extremely viable against tanks or heroes with survivability like Winston due to his high damage and lifesteal.
Use Shadow Step to flank around enemies and catch them off guard with your high-damage blasts at close range.
Reaper is the most useful in 1v1 fights due to his ability to heal off of the enemies.
Ashe (Role: Damage)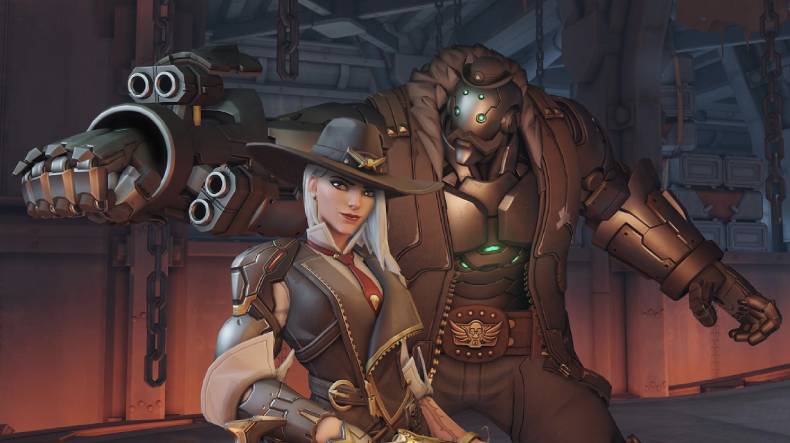 Hailing from Texas, raised into a wealthy family, Ashe turned into a ruthless and rebellious gunslinger as she founded the Deadlock Gang. She uses a rifle and can go to any lengths to fulfill her job.
Weapon
The Viper – Ashe's semi-auto sniper rifle fires quick and powerful shots.
The Viper ADS – Use Aim Down Sights to fire a more precise and powerful shot.
Abilities
Dynamite – Ashe throws an explosive that explodes with a timer or shoots it to blow it up; the explosion lights enemies ablaze, dealing damage over time.
Coach Gun – Fire a blast that knocks away enemies or launches you to the opposite direction of the blast.
Ultimate
B.O.B. – Summon an Omnic named B.O.B., who charges enemies, knocks them up and deals some serious damage with his machine gun arms.
Tips & Tricks
Some tips for using Ashe are given below:
Make sure you hone your mechanical skills to use Ashe's weapon effectively. Having a good mid to long-range aim would help you get the most value out of it.
Ashe's ultimate, B.O.B, can be a major hit or miss. Make sure you find a proper timing to use it to subdue enemies and catch them off-guard with its cannons.
Orisa (Role: Tank)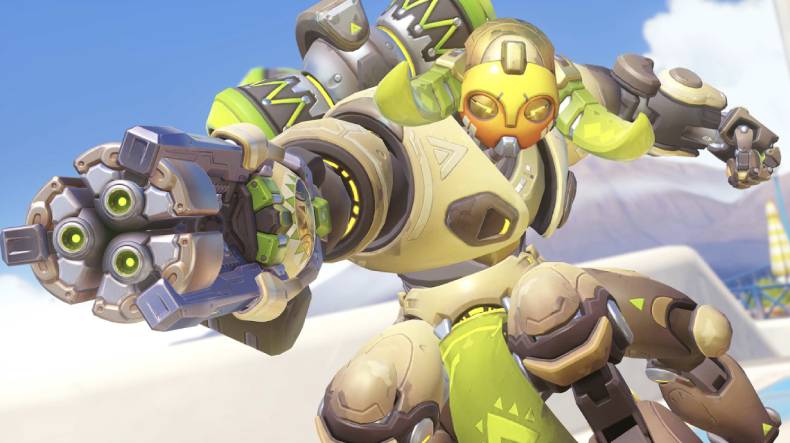 Orisa is an Omnic with a strong sense of justice and heroism in her character. As a Guardian Robot, her sole duty is to protect the oppressed and fight against the world's evils.
Weapon
Augmented Fusion Driver – An automated weapon that is heat-based.
Abilities
Energy Javelin – A javelin launch in the straight line which damages and knocks the enemies back in its path.
Fortify – Temporarily fortify Orisa, which nullifies any movement-impairing abilities and increases her damage resistance.
Javelin Spin – The javelin is spun which damages enemies in its range and counters all the projectiles coming its way.
Ultimate
Terra Surge – High damage dealing ability which allows Orisa to spin her javelin, pulling and damaging any enemies within its range.
Tips & Tricks
Following are some tips that can heighten your skills with Orisa:
You can use Orisa's Javelin abilities to interrupt multiple enemy abilities, rendering them useless.
As Orisa, you should avoid engaging in combat without support from your team, especially if you're up against multiple foes.
Roadhog (Role: Tank)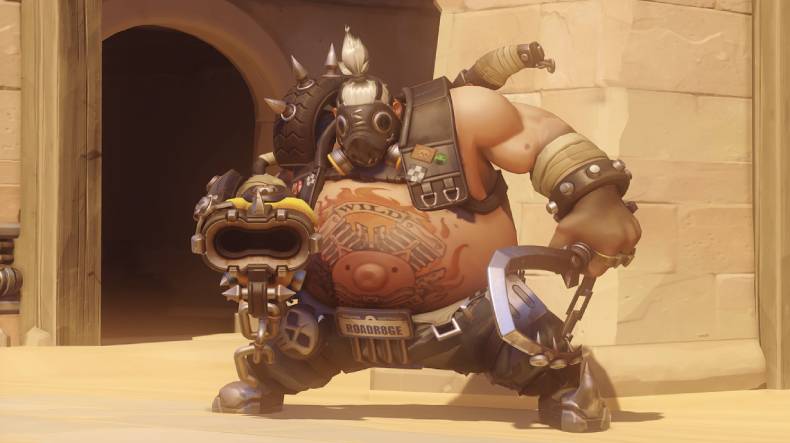 One of the most well-known Tanks in the game, Roadhog is a strong, sturdy, and relentless foe. He uses his chain hook to pull his opponents close, shredding them with his shrapnel gun and instilling fear into the enemy team.
Weapon
Scrap Gun – Scrap Gun shoots a bunch of small shrapnels in a wide range.
Scrap Gun Alt Fire – The alt fire launches a detonating shrapnel ball.
Abilities
Take a Breather – Helps Roadhog heal himself with health restoration in a couple of seconds.
Chain Hook – Roadhog throws his chain at a target and pulls them to him if it connects.
Ultimate
Whole Hog – Roadhog cranks out a stream of shrapnel that knocks back enemies and deals significant damage.
Tips & Tricks
Some Roadhog tips are given below:
Roadhog doesn't fall into the usual category of Tanks, per say, as he doesn't shield the team from damage. To use him effectively, utilize his massive health pool to go one-on-one against opponents and single out kills.
Cast your abilities in combination for optimal usage, like pulling enemies with Chain Hook and dealing damage with the Scrap Gun.
Lucio (Role: Support)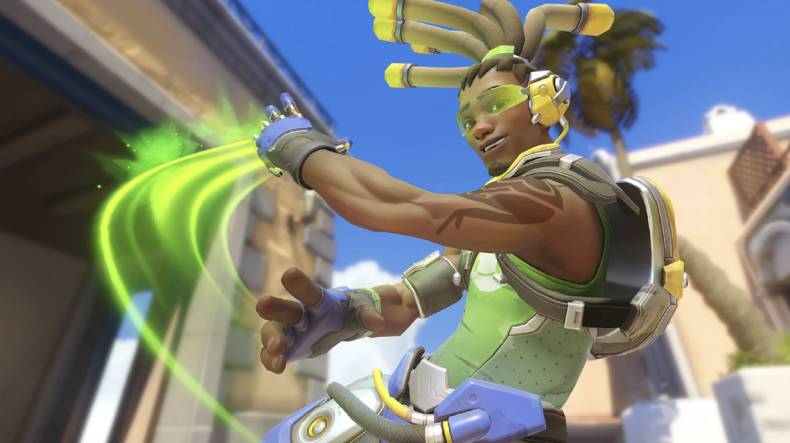 Lucio is a Brazilian DJ turned Freedom Fighter, fighting for social change through his art. With an optimistic outlook on life and a solid sense of social justice, he has a charm and charisma no one can resist.
Weapon
Sonic Amplifier – Lucio's gun fires soundwave projectiles that damage enemies.
Soundwave – Lucio can deal damage and knockback enemies with a small sonic blast.
Abilities
Crossfade – Lucio continuously energizes himself — and nearby teammates — with music and can either heal them or increase their movement speed.
Amp It Up – Increases the effectiveness of Lucio's Crossfade ability.
Ultimate
Sound Barrier – Lucio slams his Amplifier into the ground, granting allies within his range a strong shield that decays over time.
Passive
Wall Ride – Lucio can jump and ride on walls horizontally.
Tips & Tricks
Some Lucio tips are given below:
Make sure you stay in the backlines as Lucio and conserve your Amp It Up to support your team as they seek out combat engagements.
When using Lucio, get used to his maneuverability to reach your team faster for help using the Wall Ride passive.
Mercy (Role: Support)
One of the most popular Overwatch heroes, Mercy, is a Swiss combat medic with years of experience. Being one of the most brilliant doctors, she acts like a "guardian angel" for her team during battle.
Weapon
Caduceus Staff – Mercy tethers a beam to an ally that can either restore its health or increase the damage they deal.
Caduceus Staff – Mercy shoots a round from her sidearm in emergency situations.
Abilities
Guardian Angel – Mercy flies towards a targeted ally, helping her reposition in combat.
Resurrect – Mercy revives an ally with full HP.
Ultimate
Valkyrie – Gain the ability to fly and a buff to all of Mercy's abilities.
Passive
Regeneration – Mercy automatically heals over time.
Angelic Descent – Mercy can glide and slow the speed of her descent.
Tips & Tricks
Some tips regarding Mercy are described below:
Save Mercy's revival for important fights where you feel it will actually make a difference.
Opponents usually try to single out Mercy and kill her first. Make sure you stick with a solid tank for protection.
Overwatch 2: Characters Nerfs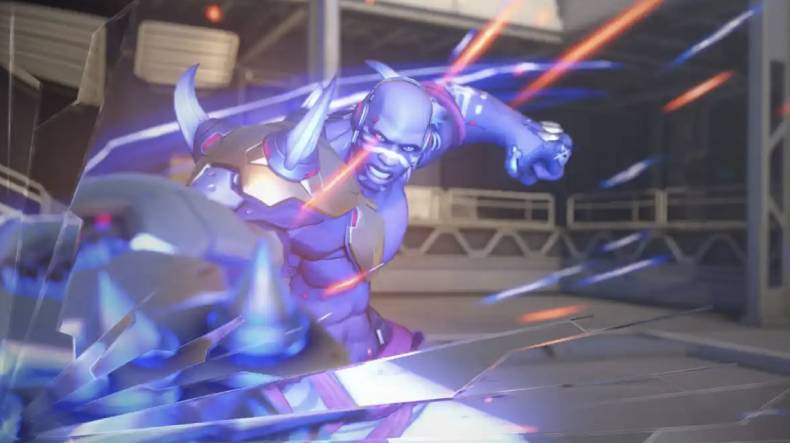 Overwatch 2 has had its fair share of balance changes, and the following are some of the most significant characters nerfs in Overwatch 2 that you should be aware of:
Doomfist
His Rocket Punch has been significantly nerfed with various teaks. Its cooldown increased from 3 to 4 seconds.
Normal Rocket Punch wall slam damage range has been reduced from 20-40 to 10-30 damage, whereas the Empowered Rocket Punch wall slam stun duration range reduced from 0.5-1 to 0.25 – 0.75 seconds.
Echo
The max DPS of Focusing Beam has been nerfed from 200 to 175 damage.
When Echo makes a Duplicate of opponent hero, it has max 300 HP regardless of the max HP of the opponent hero.
Genji
Genji saw an overall nerf with his ammo rounds reduced from 30 to 24 and Shuriken damage decreased from 29 to 27.
Lucio
Self-healing with Lucio has become less effective due to Crossfade suffering a 60% self-heal penalty instead of 30%.
Mei
Her Ice Wall has been nerfed with its health dropping from 400 to 250 and range reducing to 20 meters instead of 35.
Her ultimate cost has also been increased by 15%.
Reinhardt
Reinhardt saw some major nerfs with his Barrier Field dropping from 1600 HP to 1200 HP. Regeneration rate of Barrier Field has decreased from 200 to 144 HP/second.
There was also a nerf to his Fire Strike damage, which reduced from 100 to 90.
Zenyatta
His base shields dropped by 25 points.
Orb of Discord target fall-off time has been reduced from 3 to 2 seconds while the target is not in line-of-sight, making it less viable.
Overwatch 2: Character Buffs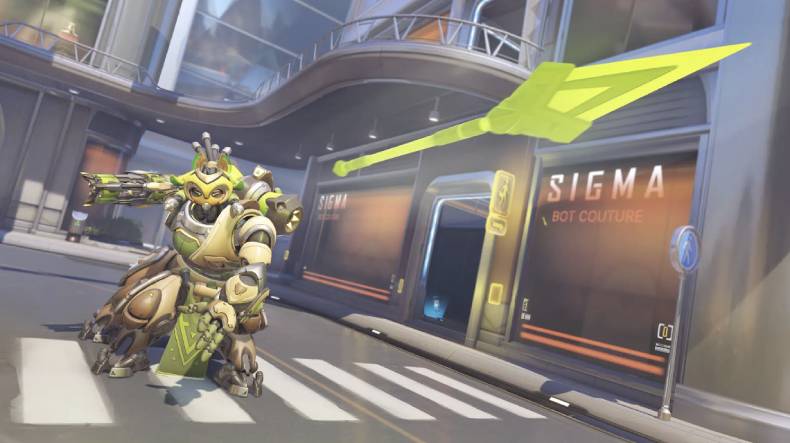 As with the nerfs, Overwatch 2 has some significant character buffs too, described below:
Ana
Biotic Rifle ammo rounds have been increased from 12 to 15, whereas damage has increased from 70 to 75
Duration of the Biotic Grenade increased from 3 to 4 seconds
Baptiste
Biotic Launcher damage increased from 24 to 25, damage fall-off range increased, and alt fire healing ammo rounds increased from 10 to 13.
Regenerative Burst does 100 HP healing to allies, previously 75.
Bastion
Recon damage has been increased from 20 to 25 while weapon spread reduced from 1.2 to 1.
Major character reworks done, including Configuration: Assault, A-36 Tactical Grenade, and Artillery Ultimate.
Brigette
Shield Bash cooldown reduced from 7 to 5 seconds while distance increased from 7 to 12 meters.
Barrier Shield health has been buffed from 250 to 300 HP.
Cassidy
Gained Magnetic Grenade that deals 131 damage as a replacement of Flashbang.
Granted 50% and 40% damage reduction from Combat Roll and Deadeye, respectively.
D.Va
Both mech and normal health increased by 50 HP.
Ultimate cost has been reduced by 12%
Orisa
Protective Barrier, Halt, and Supercharger has been replaced with new abilities like Augmented Fusion Driver, Energy Javelin, Javelin Spin, and Terra Surge Ultimate.
Base armor and health have been increased from 200 to 275 points.
Symmetra
Her Photon Projector's ammo rounds have been increased from 70 to 100, while alt-fire speed has been doubled.
Teleporter builds twice as quicker, while the Sentry Turret has a speed buff from 15 to 20.
Winston
His base armor has been buffed from 150 to 200, while some of the abilities have been tweaked like Barrier Projector health increase from 650 to 700 and cooldown reduction to 12 seconds.
Wrecking Ball
Base armor and health increased by 50 points.
Adaptive Shield's health gained per target increased from 75 to 100 HP, while radius increased from 8 to 10.
Hope you thoroughly enjoyed reading through the Overwatch 2 characters list. Let us know if the tips do come in handy!